1. Pha That Luang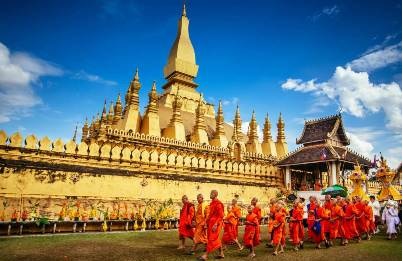 Svelte and golden Pha That Luang is the most important national monument in Laos; a symbol of Buddhist religion and Lao sovereignty. Legend has it that Ashokan missionaries from India erected a tâht (stupa) here to enclose a piece of Buddha's breastbone as early as the 3rd century BC. Pha That Luang is about 4km northeast of the city centre.
A high-walled cloister with tiny windows surrounds the 45m-high stupa. The cloister measures 85m on each side and contains various Buddha images, including a serene statue of Jayavarman VII, the great Angkor-era king who converted the state religion of the Khmer empire to Buddhism.
2. COPE Visitor Centre​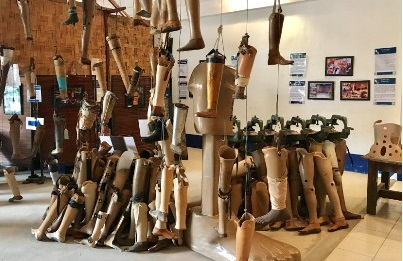 COPE (Cooperative Orthotic & Prosthetic Enterprise) is the main source of artificial limbs, walking aids and wheelchairs in Laos. Its excellent Visitor Centre, part of the organisation's National Rehabilitation Centre, offers myriad interesting and informative multimedia exhibits about prosthetics and the unexploded ordnance (UXO) that sadly make them necessary.
Several powerful documentaries are shown on a rolling basis in a theatre, and there's a gift shop and cafe, 100% of the proceeds of which go to supporting COPE's projects in Laos.
3. Wat Si Saket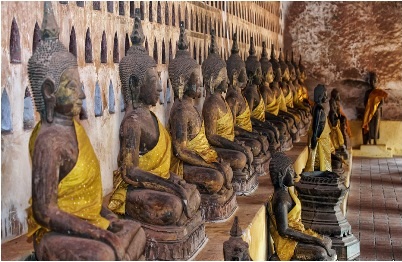 Built between 1819 and 1824 by Chao Anou, Wat Si Saket is believed to be Vientiane's oldest surviving wat. And it is starting to show, as this beautiful temple is in need of a facelift. Along the western side of the cloister is a pile of buddhas that were damaged during the 1828 Lao Rebellion.
Wat Si Saket is located across from Ho Phra Keo and is home to a collection of more than 2,000 Buddha sculptures displayed in a covered walkway around the temple.
There is also a museum on the grounds and many fruit trees for visitors to meander through and enjoy.
4. Wat Si Muang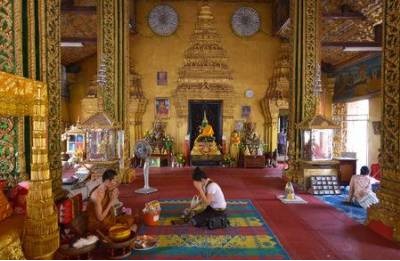 The city temple, Wat Si Muang is one of the most beautiful temples in Vientiane. A popular story tells of a pregnant woman who sacrificed herself to calm the angry spirits by jumping into the hole where the massive city pillar was to be placed. Many people pray for good luck here.
The large entry hall features a copy of the Pha Kaeo (Emerald Buddha), and a much smaller, rather melted-looking seated stone Buddha that allegedly survived the 1828 inferno. Locals believe it has the power to grant wishes or answer troubling questions, and the practice is to lift it off the pillow three times while mentally phrasing a question or request. If your request is granted, then you are supposed to return later with an offering of bananas, green coconuts, flowers, incense and candles (usually two of each).
5. Ho Phra Keo
​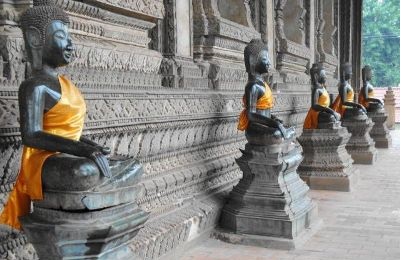 Many of the most famous Laos tourist attractions are Buddhist temples and buildings that have now been opened to the public. Among these, Ho Phra Keo is unique, as it is an almost 500 year old temple that is not a religious museum, allowing access to all parts of the former temple for anyone who visits it. Once home to the Emerald Buddha, Ho Phra Keo is now on top of everyone's list of what to see in Vientiane for the unrestricted access that it offers and the detailed carvings that make up the majority of the art within the temple.
6. Patuxai Monument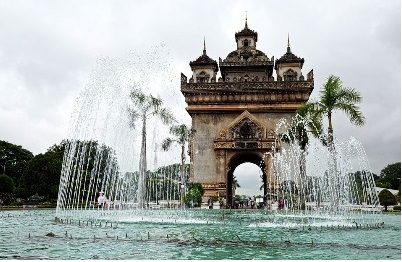 Resembling Paris' Arc de Triomphe, Patuxai or Victory Gate was erected on Lang Xang Avenue opposite the presidential palace. Surrounded by a park, construction finished in 1968 and now visitors can pay a nominal entry fee and climb to the top for a first rate view of Vientiane.
It ranks high in the list of Vientiane things to do because of the history surrounding it and the beauty of the surrounding plaza, park, and gardens.
7. Buddha Park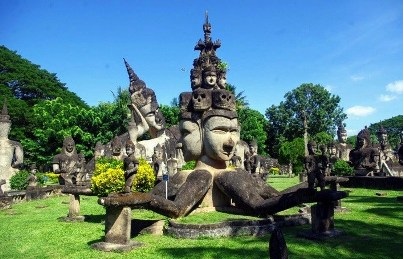 Buddha Park, also known as Xieng Khuan is located about 16 miles (26 km) outside of Vientiane Capital. The riverside park contains more than 200 Buddhist and Hindu concrete statues. The statues were built in 1958 by Luang Phu Bounleua Soulilat, who fled Laos in 1975 when the Communist party took over the government.
Bus 14 (6000K, one hour) leaves Talat Sao Bus Station every 20 minutes for Xieng Khuan. Alternatively, charter a tuk-tuk (200,000K return).
8. Kaysone Phomvihane Museum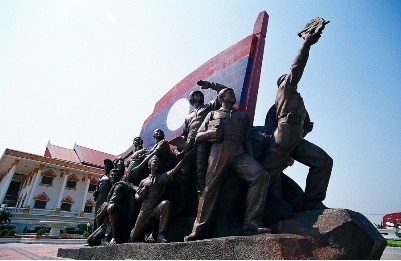 Opened in 1995 to celebrate the late president's 75th birthday, the Kaysone Phomvihane Museum serves as a tribute to Indochina's most pragmatic communist leader. The museum is a vast Vietnamese-style celebration of the cult of Kaysone, a cult he himself never encouraged.
The museum is impossible to miss, with its mega-sized bronze statue of Kaysone out front flanked by large sculptures in the Heroes of Socialism style, complete with members of various ethnic groups and a sportsman looking like Superman. The building is a stark contrast, too, and is filled with a remarkably complete collection of memorabilia of both Kaysone and the Party. These include a mock-up of Kaysone's childhood home in Savannakhet, his desk from the French school he attended at Ban Tai, and a model of a portion of 'Kaysone Cave' in Hua Phan Province, complete with revolver, binoculars, radio and other personal effects.
It's possible to cycle here or take any transport on Rte 13 South. Alternatively, a tuk-tuk will cost around 40,000K from the centre.
9. Tad Moun Waterfall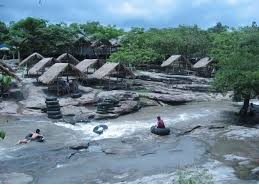 Take a long bicycle ride or hire a tuk-tuk out to Tad Moun Waterfall in Vientiane Province. The falls themselves are more akin to mild rapids, but the day can be enjoyably spent hiking through the jungle, or splashing in the water.
Thatch huts are available to rent for a picnic lunch and vendors sell food, ice cream and Beer Lao.
10. Night Market.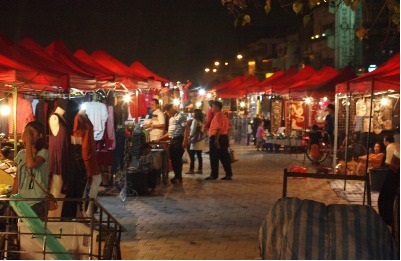 One of the most famous parts of Vientiane nightlife is Vientiane night market or Riverside night market. A series of orderly stalled with bright roofs offer paintings, clothing, food, and even traditional Laotian outfits. Bargaining is expected at the market, but vendors won't be offended if you choose not to buy from them.
Many people enjoy strolling along the river while looking at the goods on offer, making this one of the more relaxed places to visit in Vientiane.